Few have done it longer and fewer have come back the way birdring has
20:00, 03 Sep 2020
As the Los Gladiators head into the 2020 Overwatch League playoffs, they're flanked by one of the most experienced players in the world, South Korean DPS star, Kim "birdring" Ji-Hyeok. While stepping away from some of the most talent dense rosters in Overwatch history, his career was under fire going into the 2020 off-season, nevertheless, birdring has had a career renaissance this season in Los Angeles. With how chaotic this season has been, the crucible has been topped and birdring has emerged victorious. From KongDoo Uncia to leading the charge for the Gladiators, birdring has successfully reignited his career this year.
Genesis At KongDoo
Few things were certain at the beginning of Overwatch. Each region had their own read on things, each team subdivided from there and debated each other on roles and which was most important. Players from other games entered the space, some of which rose to the heights of Overwatch's first few moments in closed beta. Notable figures like Brandon "Seagull" Larned topped the streaming directories and caught the attention of nearly everyone patiently waiting for their own chance at joining the beta. One such player would impact the game in ways that maybe surprise even him
A young Kim Ji-Hyeok must have sat and watched countless hours of streams and beta footage in undoubted awe. Isn't that a fun thought? Someone who now stands as a playoff threat after what looked to be a career downswing started like the rest of us, only watching. As someone who admittedly wanted to become a pro gamer, it's interesting to look back at birdring's career and wonder if a moment like this actually happened, a moment where a young man has that eureka moment in life, where interest meets luck at the intersection of skill and passion. That indescribable feeling where you know that what you're seeing is something you're meant to be a part of.
It is difficult to tell at this point how quickly birdring took to the game, but with how early he entered the space combined with how talented he was and has been, it's a fair assumption to say that he took kindly to the game. That quickly blossomed into tangible results as birdring was inducted into the first class of professional Overwatch players in South Korea as a part of KongDoo Uncia and later with their sister team, KongDoo Panthera.
Uncia was the leading child from the KongDoo lineage and birdring was a leading talent, but chaos is always on the menu during the infancy of most esports and Uncia was quickly outpaced. As teams quickly improved and began to cement their legends into the Overwatch cornerstone, birdring was left behind to a degree. One of the world's best players was stuck on a team viewed as the weaker of two siblings.
It wasn't until OGN's Overwatch APEX Season 3 where he'd join forces with KongDoo Panthera and Kim "Rascal" Dong-jun. The pair was like pie and mash, the perfect combination and a simple solution. The two complimented each other's strengths while making up for their blind spots and the only thing that separated them was a few walls and a different jersey. Rascal took the projectile heroes while birdring took his signature Tracer and the majority of the hitscan heroes.
The pair immediately took the Overwatch world by storm and dominated APEX Season 3 pushing all the way to the grand finals, where they failed at toppling the defending champions, Lunatic-Hai, in one of the most bizarre grand finals in Overwatch history. This was the first of many tests that birdring would go through throughout his career before the Overwatch League would begin. The world knew he was talented, but what would come from him when placed in an ecosystem that could adequately support him with Rascal and KongDoo Panthera? Looking at the finish alone, you knew that the doubters had to take a step back, birdring was real and his stocks were only going up.
APEX Season 4 was more of the same, KongDoo Panthera would be acquired by North American esports organisation, Cloud9, and be rebranded to Cloud9 KongDoo. The community speculate correctly if this was a letter of intent towards the upcoming Overwatch League, however, Cloud9 KongDoo still performed well as they took home third place in the final season of South Korea's premier Overwatch tournament. Soon birdring, Rascal and the core of Cloud9 KongDoo would find themselves on a plane to North America to participate in the inaugural season of the Overwatch League--and sat beside them was the team that took APEX Season 4 by storm, GC Busan.
Read More: Are The Overwatch League Playoffs Going To Give Us A Just Winner?
London Bound
Inaugural season champions has a nice ring to it, doesn't it? Before we skip ahead to how the London Spitfire upset everyone's 2018 playoff brackets, we first have to talk about the expectations this team had on them going into the season. Cloud9 KongDoo and APEX Season 4 champions, GC Busan, were set to take the Overwatch League by storm as the London Spitfire. A South Korea super team packed to the brim with former APEX prospects that were clearly not only at the top of their game, but at the top of the game. The duo of Rascal and birdring were flanked by the duo that trounced them at APEX Season 4, Hong "Gesture" Jae-hee and Park "Profit" Joon-yeong. This was a team destined for greatness and the early months saw them meet those expectations head-on, but as time went on, the team's coordination became rockier and rockier.
Season one remembers the London Spitfire fondly as the inaugural season champions, but going into the play-offs they were a dark horse team that nearly no one picked to advance. This was a team that started the year strong, performing well in Stage 1 and Stage 2 of the regular season, but fell asleep at the wheel moving forward. Yes, they had talent, but could you count on that now after everything that had happened? No one thought London lack potential, but their recent performances were nothing to write home about. Funnily enough, they would sweep through the play-offs without much in the way of competition.
Profit was MVP and cemented his argument as the best player in the world.
Birdring flanked him with impressive clutches on Widowmaker, Tracer, and Hanzo.
2018 was the year of the London Spitfire. However, things were quick to change.
As we all wiped egg off our faces, 2019 was more difficult for the defending champions. The triple tank, triple support composition, lovingly dubbed GOATS after the team that popularized it, took the world by storm, questions began to flood in if London could take either beat or be able to pilot it to a repeat win. It turns out when you have to move your star DPS players to more supportive roles things don't necessarily work out. Stage by stage the Spitfire were stale bread, they were fine but their chances in play-offs didn't seem strong.
Today we part ways with
@NUS_OW
,
@Guard
,
@Birdring
, &
@JfeelOW
.
Thank you for all your hard work and efforts during your time with us! We wish you all the best in your careers moving forward 💙 🧡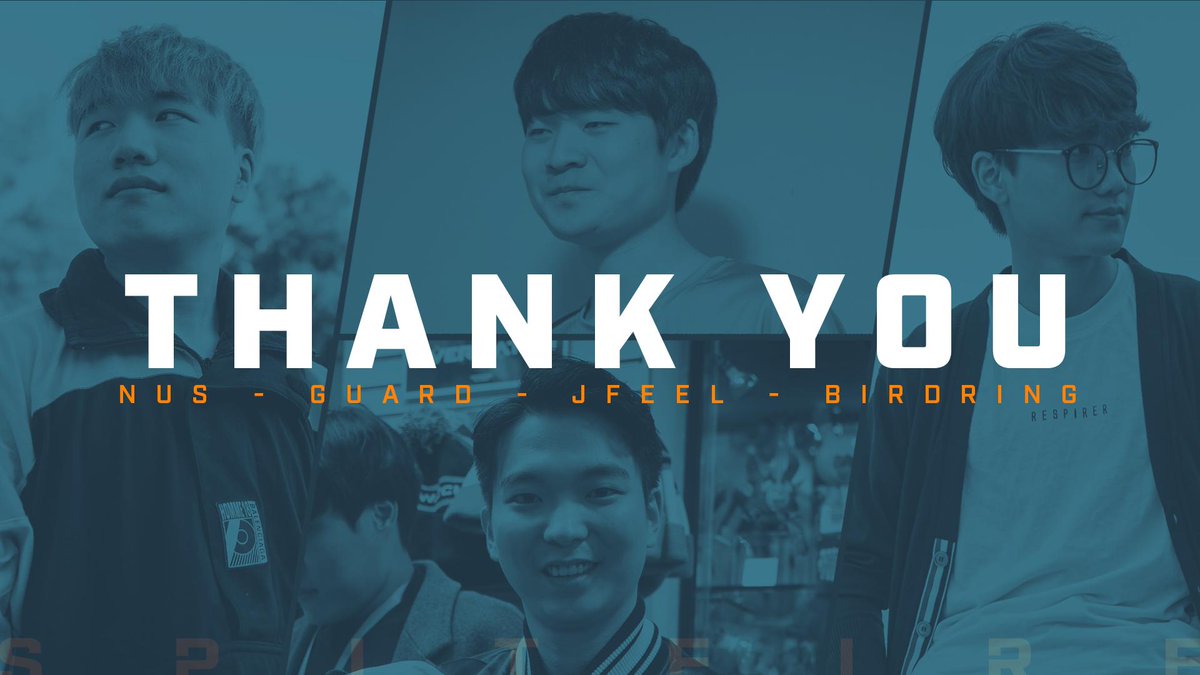 London looked impressive during play-ins, taking the Shanghai Dragons to game seven and winning was no small feat, however, for whatever reason, birdring was absent from the roster as the team headed into play-offs properly. This isn't the place for rumours or speculation, just know the team took two early convincing losses and were unceremoniously tossed out of play-off contention.
birdring was missing and the defending champions were dead. This was the start of a new era in Overwatch's short history.
Rebirth In The City Of Angles
2020 saw birdring join the Los Angeles Gladiators, a team that needed a new star as Lane "Surefour" Roberts took his talents to Toronto. However, the community fell harsh on the side of the Gladiators, and all critiques were fair. birdring had not been the player he had in the past and his absence during the 2019 play-offs was worrisome. That said, if we look back with hindsight; birdring was never allowed to play the role he signed up for right up until the play-offs. This was a star DPS player, known for his eagle eye and his mechanics on hitscan heroes, not his overwhelming flexibility and role diversity. The GOATS metagame put a gigantic asterisk on many performances and looking back, birdring should be included in those excused, or at the very least, granted more credit, from that time period.
That said, birdring is back.
While it's fair to look at the Gladiators season as a whole and be left wanting, you can't take away the return to form birdring has had all season long, across this year's smattering of metagames. Hero Pools threw everyone for a loop and for someone who was thought to be less than, birdring has returned to his former glory.
Few players go through such an upheaval in terms of skill and motivation and come out the other end better for it and birdring has done just that. Leaving a super team with some of the best players in the world to forge his own path, birdring now stands as one of the more prominent spearheads in the Gladiators' offence as they approach the 2020 Overwatch League play-offs - and he doesn't look bad at all. The debate can be made if he's near his same stature as he debuted in during 2016, but this renaissance cannot be understated. The least we can give him is that he has returned to his 2018 championship-calibre alongside a talented team. Look at the handfuls of pundits calling on the Los Angeles Gladiators to be a potential dark horse, it's difficult to make that call if like birdring, who has been a consistent threat all season, is not on that team.
As a champion, as a tenured veteran, as a young man chasing his dreams, birdring quietly makes a case for himself as not only one of the most impactful players in Overwatch history but for the greatest players of all time. A run with the Los Angeles Gladiators throughout the 2020 Overwatch League play-offs could very well add some serious data points to that argument.
Images via Blizzard Entertainment