A new event is coming to Apex!
16:00, 09 Apr 2021
It seems like the chaos of Apex Legends isn't over yet, as the War Games are about to arrive! The Chaos Theory event feels like just yesterday, and with the Chinatown Market event delayed, Respawn are treating Apex fans to another two weeks of turbulent joy, in the form of Salvo's War Games.
It's time for Maggie to get her revenge (yet again), with more mayhem in the Apex arena. Along with new skins, a prize tracker, challenges, and Takeover modes, the Apex Legends War Games event is sure to be explosive.
Check out the trailer below.
Say goodbye to your precious games—Salvo's War Games are here instead. 🔥
Play five rotating limited-time takeovers over two weeks. Everybody loves a little Mayhem—get out there and make Maggie proud, starting April 13.
Apex Legends War Games Release Date
The Apex Legends War Games event will begin on Tuesday, April 13, and run for around two weeks, ending on April 27.
Apex Legends War Games Takeovers
Over two weeks, the War Games will introduce five rotating limited-time takeovers, which will takeover (get it?) the normal Play Apex playlist.
Killing Time
Every time a player is eliminated, the rounds speed up, adding even more tension to the pressure-cooker match. Be careful, because if several teams die in quick succession, the ring will start closing in on you in record time.
Auto Banners
Automatically receive teammates' respawn banners when they go down, meaning no more running into risky situations! Also added are more mobile respawn beacons. As Respawn describe it, this change is "spicy".
Armour Regen
Armour will automatically regenerate over time at a rate of 12 points per second. Whenever you take damage, your armour will begin regenerating after an 8-second delay. This delay is doubled to 16 seconds if your armour is cracked. Because of this change, there are no Shield Cells in the loot pool, so be cautious when pushing that third party!
Second Chance
The first time you're eliminated, you'll come right back in a dropship, along with all your loot. Each Legend is granted one "free" respawn per match, and you'll be dropped back in to your current location with all your gear.
Ultrazones
The map is covered in Hot zones and Flash Points, meaning better loot, and more spots to regenerate your HP.
Multiple Hot Zones will cover the map, including more epic and legendary loot within them. Each Hot Zone is enveloped in a Flash Point, a giant bubble that regenerates your HP and shields when you are inside them.
Apex Legends War Games Takeover Schedule
Each takeover will last a few days, starting from April 13.

Second Chance: Tuesday, April 13 – Thursday, April 15
Ultra Zones: Thursday, April 15 – Monday, April 19
Auto Banners: Monday, April 19 – Wednesday, April 21
Killing Time: Wednesday, April 21 – Friday, April 23
Armor Regen: Friday, April 23 – Tuesday, April 27
Apex Legends War Games Challenges
As with every Apex Legends event, War Games is introducing a rewards track, where earning points scores you some sweet cosmetic items, badges, and more.
The track also includes five unlockable Battle Pass levels! You can earn up to 1,000 points per day and challenges refresh daily.
Apex Legends War Games Skins
Pathfinder, Wraith, Lifeline, Gibby, Mirage, and Bloodhound are all receiving some cool War Games styled skins, which are recolours of past iconic outfits.
The skins will be available to purchase starting at 1800 Apex Coins.
Check out the skins below, courtesy of dataminer Shrugtal.
The Dev Endpoints server became available to connect to again, which means we can grab *some* of the bundle prices.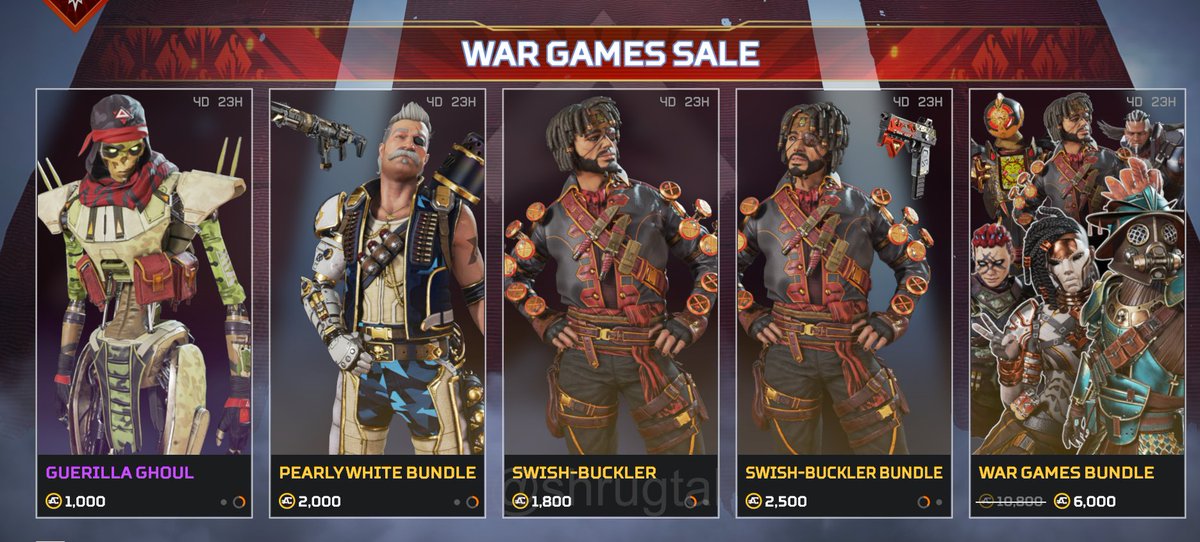 The Apex Legends War Games event begins April 13, so drop in and get ready for some mayhem!
Images via Respawn Entertainment