Is this the first glimpse into the future seasons going forward?
20:30, 10 Jan 2021
A major leak might have revealed what's in store in 2021 for Respawn Entertainment's Battle Royale smash hit, Apex Legends. The information contained in the screenshots of a test server build contains descriptions, which may refer to a new map and game mode, unknown features, and more. Could these be the big changes that Game Director Chad Grenier had hinted at in their recent developer interview?
What's in the Apex Legends Season 8 leak?
After a leaker had revealed the information on the test server publically despite an agreement to keep it private, well-known dataminer Biast12 clarified the provided information from the private build to unclutter the information. Because it is from the test server, it gives particular credence that at least some of the outlined information will find its way into the live game.
Since someone else posted this shit even tho it was planned to be hidden for some time, then here, have some fun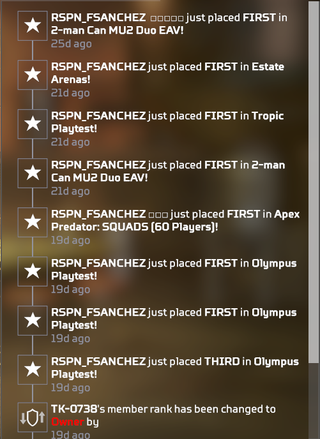 The screenshots posted by Biast12 show test server updates over several weeks with labels such as "Estate Arenas" and "Airdrop Takeover" - hinting towards those being some sort of new features that were yet to be revealed. According to Biast12, the label coined "Tropic Playtest" could be referring to the new map that may come at some point in 2021. Moreover, the screenshots show several map updates to the already known maps like King's Canyon.
Apex Legends Season 8 leak: Is it real?
One aspect of the screenshots we should temper our expectations on are those submissions which appear to feature differing player numbers per map which. According to Biast12, these are unlikely to be released.

Finally, the dataminer shared his educated guess on the label "Salvo Ship Active Tease", connecting it to a new agent called Fuse while stating that this wouldn't necessarily suggest that he had to be the next character ready to join the roster.
With this many content updates both large and small on the way, Apex Legends looks to stay a fresh experience for another year in 2021.

Stay up to date with all the latest esports and gaming news by checking out our social channels here: Twitter | Facebook | Discord
Image via Respawn Entertainment