A new Apex Legends leak shows off a host of new game modes and the potential of a long-awaited Ranked Solos mode.
15:51, 15 Jan 2021
There''s a whole new Apex Legends on the way as Respawn Entertainment's beloved shooter is reportedly introduced a host of new game modes and even Ranked Solos play. Well, it's about time. We're approaching a monumental milestone for Apex Legends as we're facing both the two-year anniversary and release of Season 8.
Alongside the usual hype surrounding a new Legend, there's potentially even more that will have you all sifting through the game's code. Namely, some highly anticipated new modes.
We previously covered how notable dataminers uncovered a team Deathmatch-inspired limited-time mode on Kings Canyon, but now, we're back with an even bigger leak. At the moment, you can't play Solos in Apex, with Respawn pushing toward teamwork and an emphasis on Trios. Still, we keep asking for Solos.
What are the Apex Legends new game modes?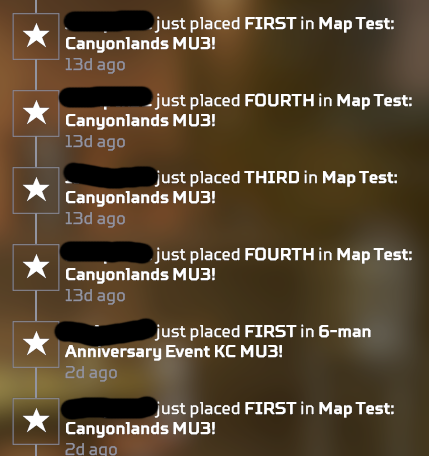 The latest drop of information comes from SomeoneWhoLeaks, who claims it's more than just Ranked Solos getting ready to make its mark on Apex. Posting on Twitter on January 14, they showed off someone testing a number of new modes. Alongside the Team Deathmatch we previously mentioned (referred to as Arenas), there's "Anniversary Event Kings Canyon" and two more modes called "Locked and Loaded" and "Death Trigger".
Easily the biggest takeaway is the nod to Ranked Solos. SomeoneWhoLeaks pointed point out that it's highlighted as "#PL_Ranked_Leagues_solo!". Before you start jumping for joy, remember that the dev team isn't exactly a champion of Ranked Solos. As recent as January 8, Respawn reiterated its stance on "toxic" Solos and said, "Same place we were when this blog came out". when pressed again on the issue.
Respawn included a link to an April 2020 blog that read: "When we introduced Solos as a limited-time mode last year we saw it actually negatively impacted the game, especially when it came to new player retention. We've also purposely designed Legends and their abilities to compliment team-play and squad composition, but when played Solo some Legend abilities become useless".
Apex Legends new game modes: Are they really on the way?
@FizzleDump
Same place we were when this blog came out:
At the time of writing, it's important to note Respawn hasn't given the leaks the official nod yet. Still, it's easy to see how they'd fit into Season 8. Also, datamining leaks are usually pretty on it in terms of accurately predicting what's next - the evidence is literally there in front of your face. Then again, it's easy to misinterpret the data and hype something that might never actually make it into the game.
Added to this, the rather bolshy stance on Solos suggests the leaks might've got something wrong. It would be a massive U-turn for Respawn to suddenly introduce Solos after it's spent so long dissing it. The optimists among us will hope it's all a clever ruse to hype up the imminent arrival of Solos as a massive birthday gift. We'll be keeping our eyes on how things develop as Apex Legends edges closer to Season 8 and continues to keep us on tenterhooks.
Stay up to date with all the latest esports and gaming news by checking out our social channels here: Twitter | Facebook | Discord
Images via Repsawn Entertainment