An Apex Legends leak might've dropped Season 7's newest Legend early, so let's welcome Horizon to the family.
13:11, 07 Oct 2020
Stop the presses because it looks like the latest addition to Apex Legends has been revealed early. While gamers are in the midst of Season 6, that hasn't stopped wild speculation about what (and who) is coming in Season 7. Following in the footsteps of Season 5's Loba and Season 6's Rampart, there's another newcomer ready to make their mark on the map. The thing is, it's not who anyone expected.
When it comes to speculating about the latest Legend, all signs pointed to a mysterious character known as Valkyrie. For months, we've been waiting for more news on Valkyrie after "Valk" was teased in the code alongside Rampart. Another forgotten relic from days gone by is the previously teased character known as Horizon. Now, it looks like Horizon is finally ready to drop into action as Season 7's Legend.
challenges_char_03 // Horizon Challenges video 3
Dataminer Biast12 has dug deep into the Apex code and shared a series of videos that link to challenges containing the name Horizon. The final doesn't include any audio, but seems to show Horizon directly addressing the audience. When it comes to her abilities and backstory, we're left in the dark, but either way, Horizon is looking increasingly likely.
Horizon's outfit and the fact she's seen in front of a ship suggests she could be some sort of scientist or mechanic - presumably fitting into the Recon class. However, be warned that all of the above should be taken with a pinch of salt until Respawn gives the nod. Still, Biast12 showed off a whole host of Horizon assets that alluded to her imminent arrival.
Horizon even got a badge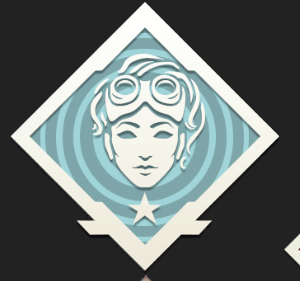 So where does this leave Valkyrie? Just like Horizon was teased eons before her arrival, it could be that Respawn is saving Valk for a later date. Also, even though developers have traditionally stuck to one Legend per season, who's to say both Horzion and Valkyrie won't pop by for a supersized Season 7? Either way, don't consider Valk out for the count just yet.
The potential tease of a third female Legend in row comes in the wake of Respawn clapping back at critiques that there are too many women. Design Director Jason McCord said Apex suggested those keeping track of gender divides within the game should move on. We'll have to wait and see whether Horizon really is just over the "horizon" for Apex Legends.
Stay up to date with all the latest esports and gaming news by checking out our social channels here: Twitter | Facebook
Images via Respawn Entertainment | Twitter Biast32