Are you ready for Team Deathmatch, Apex style?
16:00, 22 Mar 2021
Another day, another Apex Legends leak. But this time it isn't a recoloured skin, it's a brand-new game mode called "Arena". Discovered by prominent Apex dataminer Shrugtal, snippets of info about Apex Legends Arena Mode have been slowly dispersed over the past several months, most notably before Season 7: Ascension began.
Now, it looks like the mode could be introduced in Season 9, according to the most recent leaks and rumours.
The evidence, posted on Twitter by Shrugtal, is pretty convincing and seems to suggest that the game's files are full of sounds and data that point towards a different Apex Legends playlist.
Evidence for Apex Legends Arena Mode comes in the form of everything from UI slots in the Play menu for "Arena", to locations being marked as play-centres for Arena, to windy and crashing sound files with names, such as "Exoplanet".
What Is Apex Legends Arena Mode?
What we can speculate is that this isn't a normal Play Apex playlist, or even bear resemblance to any takeover or LTM we've had so far. This could be a new, smaller Apex mode, which takes place on a much smaller scale (such as a 'Skull Town-only' map) and only include a handful of squads. This could be akin to another training mode (such as Firing Range) but with living targets, a warm-up mode, if you will.
Will Arena Mode be Ranked?
Apparently, yes! Leaks seem to suggest there will be a Ranked variant of Arena Mode. This should give those on the solo queue grind to Masters a bit of a break, and something a little more fun and chaotic to focus on.
Looks like the Arenas mode is coming in Season 9 (with a ranked variant!). There's a bunch of cool stuff coming to tease it - won't be posting any of the major components, keep an eye out around mid-April.
When Is Apex Legends Arena Mode Coming?
Shurgtal seems to believe the new Apex Legends mode will land on our screens at the beginning of Season 9, and reportedly will drop more info in mid-April.
Season 9 is due to begin sometime at the beginning of May 2021.
However, here has been no official announcement or teaser for Arena Mode released by Respawn Entertainment.
And finally, Exoplanet_AMB_EXT_WindyCliffside. With how it's named - "Exoplanet" - similar to other maps - wondering if we could see smaller completely new maps just for Arenas.
Either that or Olympus gets grounded as that's the only other way we'd hear a windy cliffside.
Which Map Will Apex Legends Arena Mode Be On?
Kings Canyon seems to be the location for the Apex Legends Arena Mode, with POIs such as Water Treatment, Gauntlet, and Broken Relay providing the state for the mode. Shrugtal is clear when he remarks that these are not the final locations, and may just be for devs' playtesting purposes.
Other arenas (which I'll put in a later video) are
Capacitor
Rig
Broken Relay
Gauntlet
Cascades(??)
Repulsor
Water Treatment
Of course remember locations or loadouts or w/e aren't final, it may just be set up like this for internal playtesting.
Is Apex Legends Arena Mode Team Deathmatch?
So, is Arena Mode a Team Deathmatch playlist? Sort of.
Shrugtal reports that it does function similarly, splitting players into two teams of three, with respawning in place. He provided a diagram based on the Kings Canyon POI Artillery, where A and B Spawn could be. The diagram also includes med spawns, airdrops, and increasing storm rings.
Arena triggers found in latest King's Canyon map file.
3v3 TDM-style mode, teams spawn on A and B in gibby bubble. 4 diff loadouts.
One airdrop in center, one medical supply bin spawn at the side.
3 Ring stages.
Many different "arenas" in different King's Canyon areas.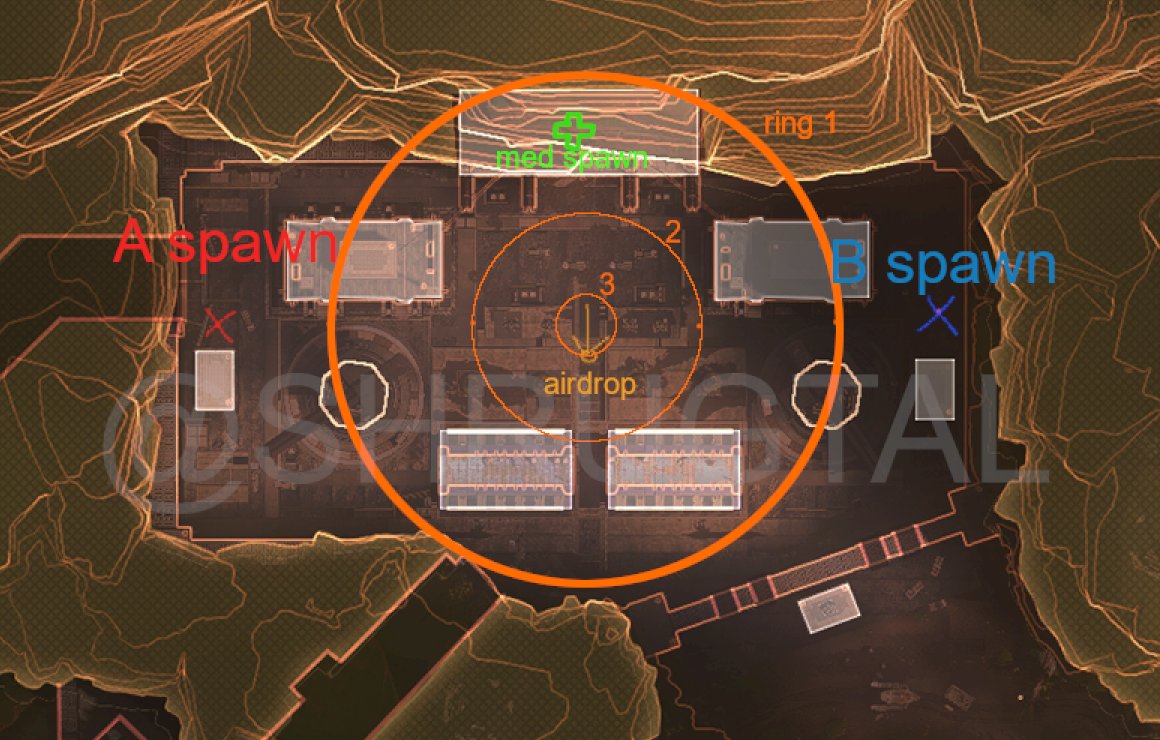 Only time will tell if Arena Mode becomes a reality, but with Season 9 due to drop in a couple of months, we may not have to wait very long.
Stay up to date with all the latest esports and gaming news by checking out our social channels here: Twitter | Facebook | Discord
Images via Respawn Entertainment