Apex Legends fans can now represent their favourite legends on the streets with the new Air Jordan 3 collaboration.
18:08, 09 Oct 2020
Respawn Entertainment has collaborated with Artifact Studios (RTFKT) to create a range of custom trainers to coincide with the "Ramparts Rarities" Apex Legends Season 6 event. The range has been splashed across Twitter, boasting five unique designs for some of the Outlands' favourite legends.
The range has been designed by Co-Founder of RFTKT, Chris Le, who has a history of creating gaming and training collaborations for years.
With five designs available, there will be one winner per design, meaning that there will be five lucky Apex Legends fans who will be able to sport the beloved legends on the streets. The Rampart exclusive trainers will be offered to one lucky Twitter user who takes part in their draw. This design is a classic Air Jordan 3 trainer using the Rampart colour scheme of Red and Green, which could be a stunning Christmas present from Respawn themselves.
We've partnered with
@RTFKTstudios
to bring some of Rampart's finest to life with the Rampart's Rarities Week 1 Giveaway! Drop that shoe size below. 👇
To enter:
👟Follow
@PlayApex
👟RT this tweet
NO PURCHASE NEC. 18+ Ends 10/13/20
#RespawnGiveaway
📄:
The other four designs of Wattson, Lifeline, Octane, and Crypto will be given away by professional Apex Legends player Jack "NiceWigg" Martin, with fans having until October 12 to enter the draw. Again, there will be one winner for each pair of trainers, and there have been more than 10,000 entries as of writing.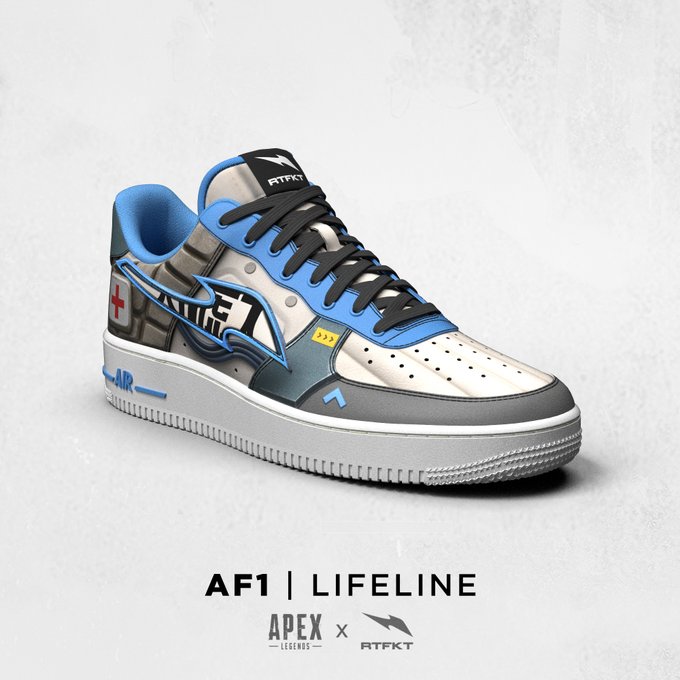 Winners of the competition will be revealed via social media after October 13, meaning you have just this weekend to chuck your hat in the ring.
Chris Le, the designer of the trainers, has recently done an Apex Legends collaboration with Pathfinder, where one lucky member of the public was gifted a light blue Nike Air Max design with the quirky robots smiley animation on the side. Before then, he has created many unique gaming designs, such as crossovers with Fall Guys, PlayStation 5, and VALORANT's Jett, and has even designed trainers for esports brands such as G2 Esports and Fun Plus Phoenix.
Make sure to enter, and keep your eyes peeled for the winner.
Stay up to date with all the latest esports and gaming news by checking out our social channels here: Twitter | Facebook
Images via Artifact Studios