The latest Apex Legends leaks have shown off the new line of skins from this year's Holo-Day Bash Christmas-themed event.
12:26, 17 Nov 2020
Christmas has come early in Apex Legends as the new Holo-Day skins have leaked ahead of their full reveal by Respawn Entertainment. It's no secret that the Holo-Day Bash will be back to round off 2020 in style. With it, we're expecting a tonne of seasonal content to celebrate this most magical time of the year.
We've only just dropped into the jam-packed Apex Legends Season 7 and got to grips with Horizon alongside the expansive Olympus map. However, with just six weeks to go until Santa drops down the chimney, it won't be long until there's a dusting of snow on across Respawn's first-person shooter.
Apex Legends Christmas Skins: What's on the way?
The Christmas Event Bundle Showcase
Known Apex Legends leaker Biast12 is behind the reveal and shown off the Holo-Day skins in all their glory. In the extensive thread, we get a look at a magical makeover for everyone from Bloodhound to Mirage. Notably, Mirage looks like he's fresh out of the toybox with a Nutcracker-inspired outfit. Speaking about what else is on the way, Mirage is in charge of this year's Holo-Day Bash.
According to Biast12, Loba, Wraith, Gibraltor, Lifeline, Mirage, and Crypto will be getting bundles, while Crypto could be getting two. Another highlight is the Polar Bear version of Gibraltar, although it's a tweak to last year's skin. In fact, most of this year's new looks are just recoloured versions of 2019's wardrobe. There have already been complaints about recolourings being a "lazy" way to try and revamp outfit choices, so it will be interesting to see whether fans "warm" to this year' snowy special.
Apex Legends Chrismas Skins: What else is new?
And the tracker.......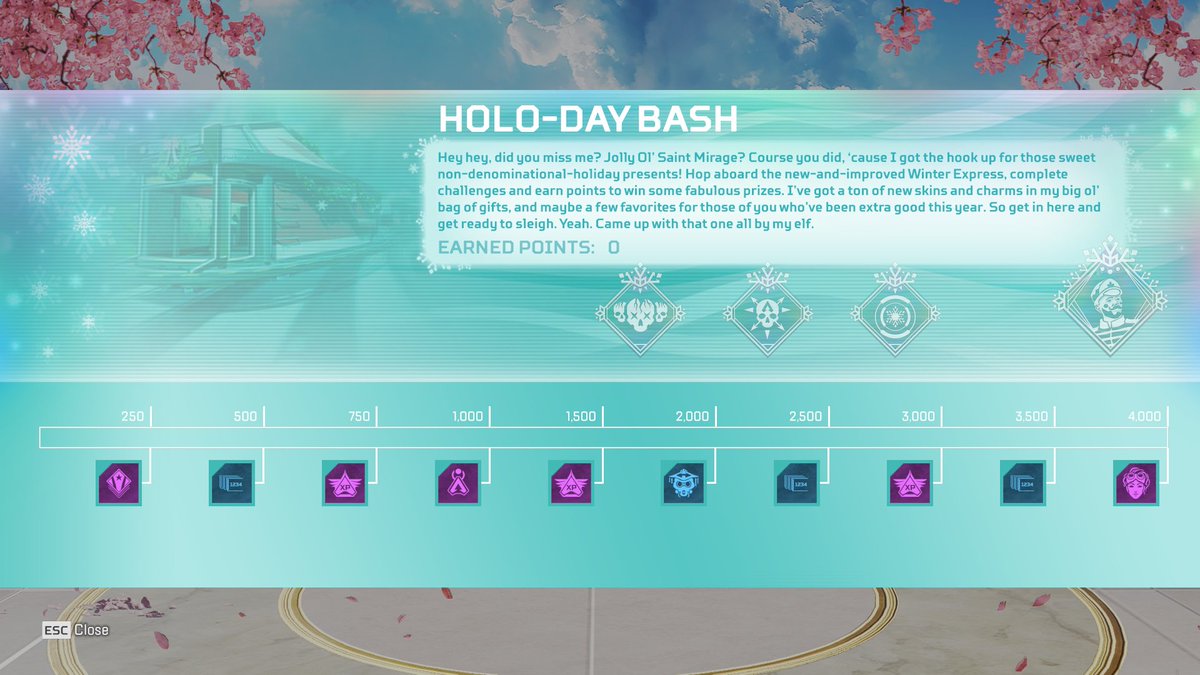 Last year's event brought a Polar Express-inspired train to Apex Legends, and by the sounds of it, a new and improved version of Winter Express is back on the rails. Some had expected to see Horizon run her first Town Takeover, but it seems like Mirage will be the focus of the Holo-Day Bash once again. Still, Horizon could be getting her own Holo-Spray.
As with all these things, it's not simply a case of throwing some new outfits on our favourite Legends and hoping for the best. It's important to remember Season 7 brought a lot to Apex, so it would be foolish to expect a complete overhaul while we're still ironing out the kinks. With recent drama surrounding the grind of Season 7's Battle Pass, let's hope the Holo-Day bash can lift everyone's Christmas spirits. At least we know now which festive skins we'll be finding under our trees on December 25.
Stay up to date with all the latest esports and gaming news by checking out our social channels here: Twitter | Facebook | Discord
Images via Respawn Entertainment