Alliance did what nobody before them could, and took the map win on Icebox from Team Liquid.
20:00, 22 Feb 2021
If you've caught some VALORANT streams on Twitch this week, chances are it was a North American or Korean competition. Not so many European matches got broadcast, but that doesn't mean it was any less exciting. One of these exciting matches off-stream, was Team Liquid vs. Alliance.
The odds were stacked against Alliance. Their opponents were the champions of Icebox in Europe: five times played; five times won. But Alliance did what nobody before them could, and took the map win on Icebox from Team Liquid.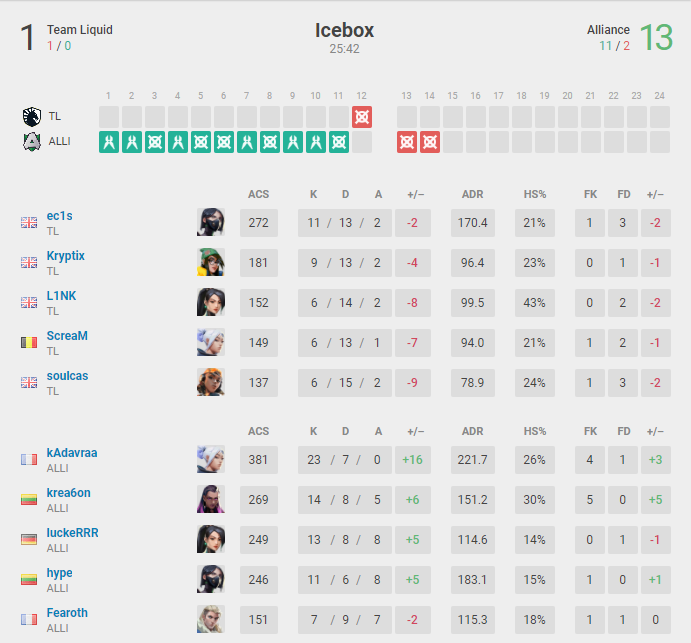 Team Liquid is a force to be reckoned with in Europe's top tier of VALORANT esports. Their mostly British line-up, completed by Adil "ScreaM" Benrlitom, was meant to roll through the Open Qualifier for Challengers 2. But they hadn't taken the new European team of Alliance into account.
Alliance is the brainchild of James "BanKs" Banks and Mitch "MitchMan" McBride. When BanKs asked MitchMan to be the analyst for a professional team, MitchMan thought he was joking. But no, BanKs was determined to scout for European talent in VALORANT, and he could use MitchMan's help. The two made a name for themselves as casters, but when February came around, they started a new journey.
In an interview with Esportsheaven.com, MitchMan explains it was his job to suggest new players to trial, but once Enzo "Fearoth" Mestari joined, their approach changed. Fearoth was part of the process to build a team around what they had established. Now MitchMan fills the role of analyst, coming up with new ideas for his team, and finding weaknesses in enemy teams.
In their first month, Alliance have been extremely successful. It became clear they were a team on the come up, but they also hadn't faced a lot of heavy competition yet. How well they were really playing, had yet to be tested.
That test came against Team Liquid, halfway through the Open Qualifier in the second week of EU Challengers. Alliance started off strong on their Haven, their first map pick, but after a 6-6 first half, Team Liquid ran away with it. Alliance only won a single round on their defender's side, and it all seemed to be over for them. Defeated on their own map pick, they moved on to Icebox, Liquid's strongest map. There was no way Alliance could equal the series here, right?
It was time for Alliance to dethrone the European Icebox kings. It was pure mayhem, the way Alliance stopped Team Liquid in their tracks. Winning the first 11 rounds in a row, Team Liquid were nowhere to be seen. Team Liquid Sage and Omen player Travis "L1NK" Mendoza said on Twitter that it was a good showing from Alliance, and that they got owned by the incredibly strong Jett on icebox. Alliance's Thomas "kAdavra" Johner, as Jett on the operator, played out of his mind and got a more than respectable 23/7 kill-death ratio. A scoreline of 13-1 is all Alliance needed to set themselves up for the upset of the week.
1-2 vs
@theAllianceGG
gg's to them they played great, completely got stomped on icebox. I couldn't get anything going today played really really poorly
#bed
The deciding map was Split, where both halves went back and forth. Alliance just managed to get two more rounds on as attackers, and two more as defenders to close out the map 13-9. Their win over Team Liquid could shake things up a little bit. We definitely need to see more from a team that's less than a month old to safely say Alliance are here to stay, but everything is looking like they are.
Alliance went on to sweep the French squad of DfuseTeam to qualify for Challengers 2, and they continued their winning streak by clutching an overtime and completing the 2-0 versus Wave Esports. This win in the second Challengers event means they were the first team to qualify for the upcoming Masters event. For a team this young, that's a huge feat.
I have no words, I am so happy.
@theAllianceGG
are the first team to qualify for
@valesports_eu
Masters! A lot of people doubted my methods & choices in picking players for the team but I didn't react, this result is the reaction - this is just the start!
#LongLiveAlliance
#VCT
So what's next for Alliance? Now that they've qualified for Masters, alongside Ninjas In Pyjamas, FunPlus Phoenix, and Team Heretics, they just have to wait to find out who the other four teams in Masters are going to be. That will be decided in Challengers 3, coming up at the start of March.
Under BanKs's management, the Alliance roster has come together to fight their way into the highest competition in the EU, and that's exactly what they did. And if it's up to them, this is just the start.
Image via Alliance