Results, Legend pick rates, and more analysis from the ALGS Autumn Circuit Online Tournament #4.
17:30, 26 Nov 2020
The ALGS Autumn Circuit is kicking into high gear. The four main qualifying tournaments have been completed. Tournament #1 and Tournament #2 were full of surprises, while the Tournament #3 and Tournament #4 results were more in line with what analysts and fans expected. Regardless, every step of the way has unveiled new storylines and unexpected drama. This week, things look grim for a few of Apex Legends' most iconic pros. Could this be the end for some of Apex Legends esports' most familiar faces? Also, new Legends enter the meta while others lose a stronghold on their spot.
Without further ado, let's dive right into the ALGS Autumn Circuit Online Tournament #4.
North America Grand Finals
Complexity are your North America ALGS Autumn Circuit Tournament #4 champions.
Four tournaments in and we've had nothing but unique champions. This further highlights the competitive parity within the Apex Legends esports scene.
Early on in the Autumn Circuit, it was anyone's game. However, as teams figure out Season 7's meta, the elite orgs are showing why they belong at the top.
Complexity finally claimed a well-deserved victory. They've consistently placed top-three throughout the Autumn Circuit but were just barely edged out by other teams. This time, they put on a dominant performance, proving to themselves and the fans that they have what it takes. Complexity won three out of six rounds and ended the tournament with an impressive 35 kill points.
Right behind Complexity was Team Solo-Mid (TSM). Heading into the final round, it looked like TSM was in position to go back-to-back. TSM went off in Round 5 with 15 kill points and a first-place finish. But Complexity was not going to let this one slip away. Complexity beat out TSM in the final round to take victory.
If you're looking for team AimAssist, they now play under the name of Sola Fide. The AimAssist roster gave up their independence and signed with the Sola Fide organisation. Congratulations to the controller gods.
Still, the North America region was not without its failures. Fan favourites like Team Liquid and Rogue continue to underwhelm. Through all four online tournaments, Team Liquid has only reached the Grand Finals once, and they finished in 17th place. These organisations will really need to reconsider their standing in competitive Apex.
Ayooooooooo!!!! We fkn won ALGS ACOT
#4
!!! And we hit 700 subs on stream today!!! AHHH! Thank you for the support friends <3 We'll be studying hard for playoffs.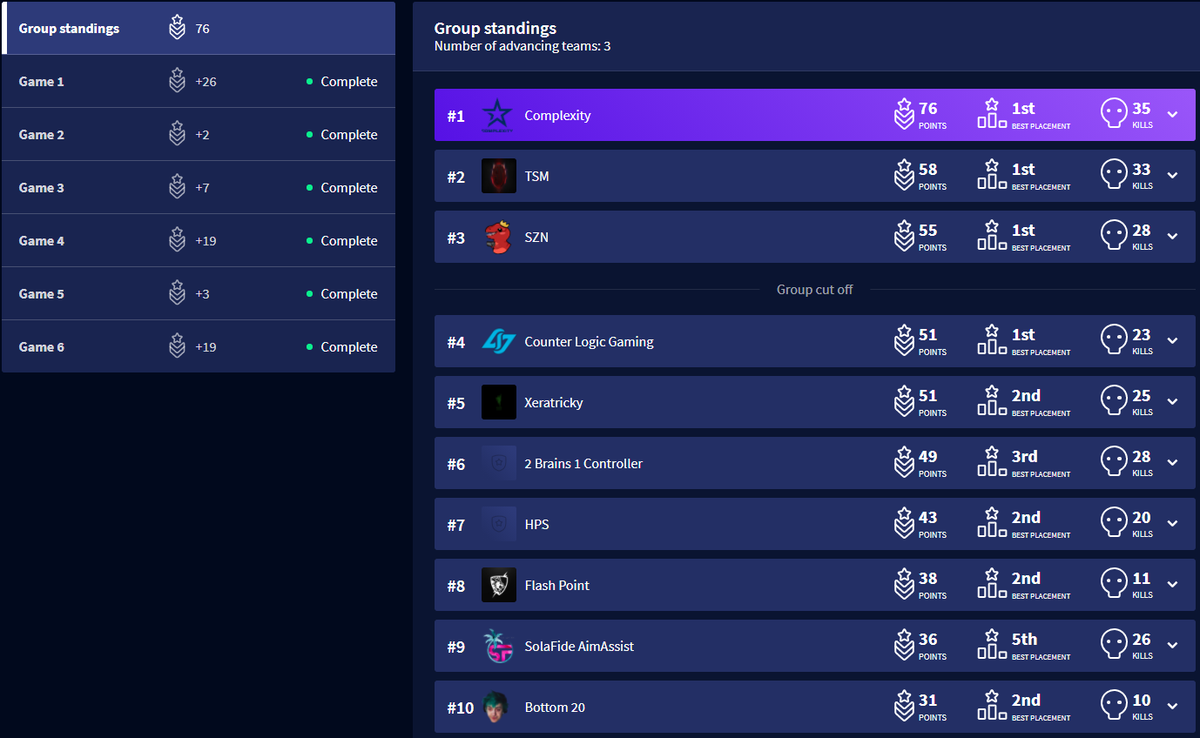 Europe Grand Finals
Despite the big names in North America, the Europe region has been objectively more competitive and entertaining as of late.
Alliance took victory in Tournament #4, proving that they stand alone atop the Europe region. Followed closely behind them are the likes of Nessy, North, Luminosity, LZR, and MajorPushers. Any one of these teams could pop off on a given day and push their squad to the forefront. Will one of these teams separate themselves from the pack? Which team will emerge and claim victory in the ALGS Autumn Circuit Playoffs? This will be a major storyline for the ALGS.
The Europe region as a whole is a shining example of what peak Apex Legends esports looks like. Check it out for yourself. The clip below features an insane Wraith portal kidnap play by Alliance's John "Hakis" Håkansson.
NA and Europe Legend Pick Rates
The legend meta is shifting. There's a lot to dive into this week in terms of pick rates.
One of the first things readers will notice is the Caustic pick rate in EU. Caustic was picked 40% of the time! On the other side of the pond, Caustic had a whopping 0% pick rate.
There's some reasoning behind this. Caustic's overall pick rate has been steadily rising each tournament. Caustic, as a legend creates a positive feedback loop. In stacked competitive matches, the final circle tends to be covered in gas. Caustic is the only legend that can fight in and see through the gas. So if everyone's running Caustic, it encourages other teams to run him as well. If no one is using Caustic, having one on your team becomes less crucial.
NA has not quite caught on to the Caustic meta. However, we wouldn't be surprised if some NA teams take notes on what EU is doing and try their hand at the gas giant in the Playoffs.
Gibraltar has taken over as the number two Legend. This trend has been growing each tournament. With the randomness of rings and the plethora of open spots on the map, Gibraltar has become sort of a necessity. Teams need his bubble to survive in situations that would otherwise equal certain death.
The rise of Gibraltar correlates with the downfall of Wattson. Wattson's pick rate has been on a steady decline each tournament. Her kit is just so situational and doesn't provide enough utility for her to remain a mainstay. Before, rings were predictable, and teams could set up with Wattson ahead of time. With the change to the ring algorithm, this is no longer possible.
After making an appearance in Tournament #3, Revenant once again regressed to zero picks. However, Season 7's new Legend, Horizon, showed up in his place. sc1ssors of team Tissue Paper tested the waters with the Scottish astrophysicist.
Understanding the logistics behind these team comps is crucial for anyone looking to succeed in competitive Apex Legends.
The End of the Rogue?
Oh, how they fall. ALGS Tournament #4 was a perfect example of how quickly things can change in an esport like Apex Legends. Rogue, the champions of ALGS Autumn Circuit Tournament #1, finished Tournament #4 in 20th place, or dead last. Following the completion of the tournament, Rogue's members relayed some ominous messages. From the sound of things, The Rogue organisation is on the brink of dropping their competitive Apex Legends team. This would be extremely sad news for the entire Apex Legends community.
Rogue's members have been getting a lot of flack recently for their lack of dedication. Rogue's members are the number one, two, and three, ranked Apex Predators in the public ranked playlist. Rogue's players have been sinking an enormous amount of time into content creation and grinding ranked. However, this has come at a cost. The players been missing scrims and smaller tournaments and been vocal about their lack of focus on Apex Legends esports.
The community has given the players a lot of crap for it, but the sad truth is, it's paying off for them financially. As things stand in Apex Legends esports, streaming and content creation is more lucrative than competing is. The prize pools are not enough to tempt these players away from the casual benefits of streaming.
We'll see if this disappointing finish lights a fire under Rogue or if this is the end for the team as we know it.
COOLER fails to qualify for a single Fall Circuit Final
The COOLER organisation made a major investment into Apex Legends esports earlier this year. Initially, it looked like that investment was paying off. COOLER was the highest-rated EU team during the Summer season. In the time since, things have taken a turn for the worst. COOLER has failed to qualify for a single Fall Circuit Final.
Playoff Preview
The Autumn Circuit Last Chance Qualifiers will be held from December 5-7. As the name suggests, this tournament will give teams that have yet to qualify a "last chance".
Finally, the Autumn Circuit Playoffs will be held from December 19-20. Tune in to witness the best Apex Legends has to offer as they compete for a prize pool of $332K.

Until then, stay tuned here @GGReconEsports for Apex Legends news, guides, features, and more.
Images via Respawn Entertainment | Lenovo Legion | @ApexSinghLabs