Results, Legend pick rates, and more analysis from the ALGS Autumn Circuit Online Tournament #3.
18:00, 04 Nov 2020
The first two tournaments of the Apex Legends Global Series Autumn Circuit have delivered in every way imaginable. Competitive parity is through the roof as underdog teams with unproven track records take down the goliaths of the scene. While Tournament #1 and Tournament #2 were full of surprises, Tournament #3 brought us back to the norm. Still, there was no shortage of action.
Let's take a look at the results and what we can take away from the ALGS Autumn Circuit Online Tournament #3.
North America Grand Finals
Well, they finally did it. Team SoloMid (TSM) are your ALGS Tournament #3 champions.
TSM is the most accomplished organisation in Apex Legends history. After building a dynasty, TSM fell off a bit. The competition was fierce, and the trio were no longer as dominant as they once were. This came to a peak last month when Mac "Albralelie" Beckwith retired from Apex Legends. In Albralelie's place, TSM acquired Eric "Snip3down" Wrona.
Following Snip3down's acquisition, TSM continued to struggle. TSM simply wasn't living up to expectations. However, that's all come to an end. TSM has taken ALGS Tournament #3 in commanding fashion.
Just to put it into perspective how dominant TSM was, of the top four kill leaders in Tournament #3, three of them were members of TSM. Philip "ImperialHal" Dosen had 14 kills, Snip3down had 13, and Jordan "Reps" Wolfe finished with ten kills. It appears that everything is finally coming together for this new TSM roster. We'll see if they can carry the momentum into Tournament #4.
Tournament #3's runner-up was NRG. The shocking part about this is that NRG finished 2/6 rounds with zero points. Rounds Three and Four saw NRG walk away in 19th place with zero kills. Normally, this would be a death sentence. However, NRG's immense talent allowed them to persevere.
One team everyone had their eye on this week was Team Liquid. Albralelie, one of the original members of the TSM dynasty, came out of retirement this week to join Team Liquid. After showing promise leading up to the tournament, the new Team Liquid roster failed to make much noise. There is no denying the talent of this squad, but their comms and chemistry will need major work if they plan to find any real success.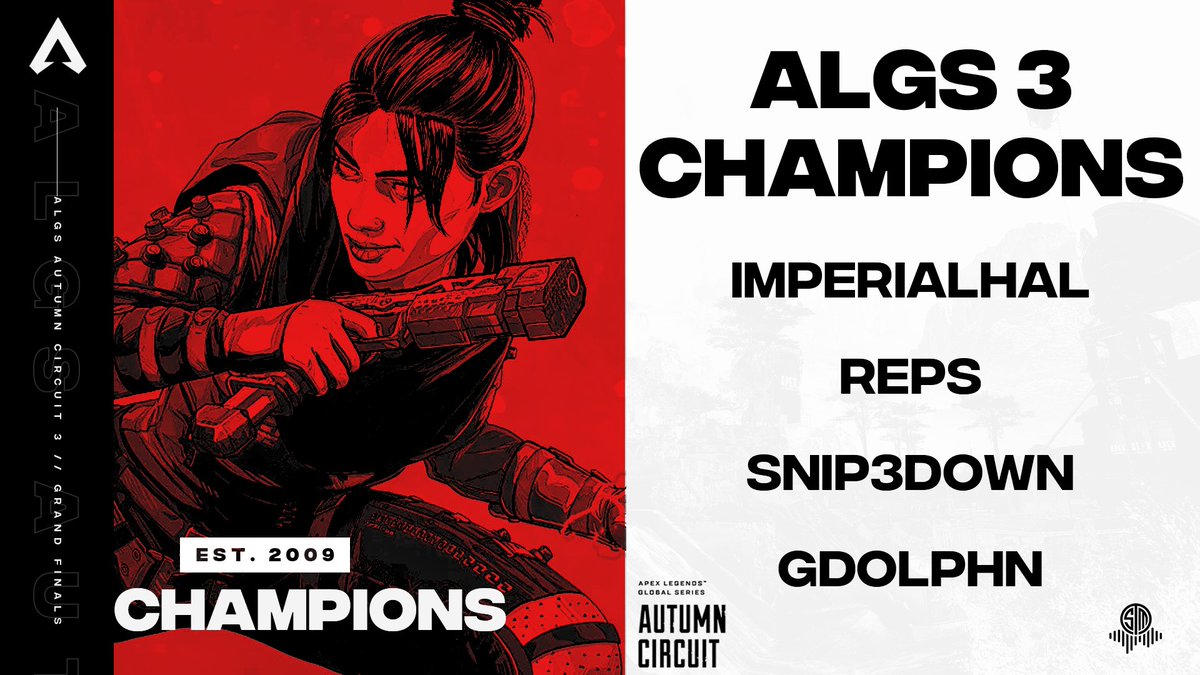 Europe Grand Finals
Just like the NA region, Europe's standings are finally starting to look how they were "supposed" to, heading into the ALGS. The past two tournaments have been filled with upsets and Cinderella stories - teams no one expected to compete came out and claimed first place. Now that everyone has settled in, it looks like things are starting to shake out how the fans and analysts had predicted.
North took first place, followed by Nessy and Alliance. These three teams are the consensus top three of the European region. With finals scores of 66, 63, and 62, any one of these three teams could have ended as Tournament #3 champions. Fans should expect to see more of the same from North, Nessy, and Alliance in the coming weeks.
NA and Europe Legend Pick Rates
The age of Gibraltar is upon us. Tournament #3 saw Gibraltar rise to the second most picked Legend overall in the NA and EU regions. In Tournament #1, Gibraltar had a mere 25% pick rate in the EU. Two tournaments later, his pick rate soared to over 60%.
Upon analysis, there's a reason for this: the non-moving zones in Apex Legends are becoming a huge problem in competitive. It's impossible to predict exactly where a zone is going to move. Incorrectly predicting a zone or getting unlucky means being forced to rotate and fight into a heavily contested zone.
Can we please get moving finals zones in Apex? This portal BS final zone that only a Gibby can stand in is total BS for competitive
The answer? Gibraltar. Gibraltar excels at providing cover and allowing a team to rotate into an otherwise deadly position.
Compare this to the other popular defensive Legend, Wattson. Wattson's kit is perfect for holding a position. However, Wattson provides little utility while rotating. This is reflected in Wattson's pick rate. Wattson's pick rate fell 12% overall from Tournament #2. This leaves her pick rate at an all-time low both overall and in the EU region.
Bloodhound has also seen a steep decline in pick rate. Bloodhound fell 10% overall and 15% in the NA region. Teams are instead opting to bring along either a Gibraltar or Crypto in Bloodhound's place. It seems like a lot of teams have sort of "figured" out Bloodhound and the tracker is no longer as useful as they once were.
Revenant finally shows his face. This is the first time we've seen any Revenant picks in either of these two regions. A couple of EU teams paired Revenant up with Wraith and one of either Gibraltar or Bloodhound.
Understanding the logistics behind these team comps is crucial for anyone looking to succeed in competitive Apex Legends.
APAC North Legend Pick Rates
Taking a quick look at APAC North Legend pick rates, readers will notice the drastic differences between APAC North and their western counterparts. APAC North teams love to run aggressive team comps loaded with Bloodhounds and Revenants. Completely opposite to NA and EU, almost no one in the APAC North runs Wattson. This is actually the most we've seen of Wattson in the APAC North as of late.
These differences in playstyle lead to varied team comps all around. For example, Caustic is occasionally brought along purely as a counter to Bloodhound and Revenant aggression. Teams are experimenting with different defensive Legends in an attempt to counter the highly aggressive playstyles prevalent in the APAC North.
ImperialHal Shines as In-Game Leader
It's time to give credit where it's due. Imperial Hal received a lot of flack last week in regards to poor play calling and decision making. This week, ImperialHal learned from his mistakes and carried TSM to first place with his outstanding calls.
In addition to carrying his team, ImperialHal is carrying the entire Apex Legends competitive community. At one point in the tournament, ImperialHal's stream had over 25K concurrent viewers. Regardless of what team you're a fan of, there's no arguing how great viewership like that is for Apex Legends esports as a whole.
TSM vs Albralelie Drama
Tournament #3 was not without its share of drama. As we discussed in our North America Grand Finals recap, former TSM star, Albralelie, has come out of retirement to join Team Liquid.
Rumours about the breakup have been flying, and it appears that there may be some bad blood between Albralelie and TSM's captain, ImperialHal. Both of these players are super talented, and their egos clashed on occasion while they were teammates. Albralelie did not take well to being second fiddle to ImperialHal. So, he retired. In his goodbye announcement on Twitter, Albralelie failed to mention ImperialHal or even acknowledge their time together.
Obviously, something was going on, as Albralelie came out of retirement just a few weeks later to join Team Liquid. It seems like it was less of a retirement and more of a way to escape TSM.
As one would expect, tensions were high as the two would come face to face on the battlefield. Albralelie got the better of TSM earlier in the week when he pulled off an insane 3v1 with the Kraber. However, it was the new TSM squad that had the last laugh when it came down to it in Tournament #3.
I had to do it to em, sorry boys i love ya 🤟
Season 7, Horizon, and Olympus
Tournament #3 was the last Tier One online event to be held in the Season 6 - Aftermarket patch. With Season 7 - Ascension comes a new Legend and a new map. This has the potential to change the meta entirely. Tournament #4 will be an exciting one, as we witness how the new Legend, Horizon, and the new map, Olympus, fit into competitive play.

The ALGS Autumn Circuit resumes November 21 - November 23 with Tournament #4. Until then, stay tuned here @GGReconEsports for Apex Legends news, guides, features, and more.


Images via Respawn Entertainment | TSM | @ApexSinghLabs