Results, Legend pick rates, and more analysis from the ALGS Autumn Circuit Online Tournament #1.
18:30, 08 Oct 2020
The first tournament of the Apex Legends Global Series (ALGS) Autumn Circuit did not disappoint. The competition was as tight as ever with the North America Finals coming down to the very last second. Tournament #1 was a Cinderella story with upset after upset across all regions. Heavyweight teams failed to qualify for the Finals while the underdogs made names for themselves. Let's take a look at the results and what we can take away from the ALGS Autumn Circuit Online Tournament #1.
North America Finals
In our piece titled, "Why You Should Watch The Apex Legends Global Series", we discussed how the competitive parity in Apex Legends is at an all-time high. Well, Tournament #1 went above and beyond to prove that. NO ONE could have predicted the final results of the North America or Europe region. We saw massive upsets around the board, and a few top orgs failed to even qualify for the finals.
The biggest news leading up to the ALGS was Team SoloMid's (TSM) acquisition of Eric "Snip3down" Wrona. Snip3down is considered one of the best overall players in all of Apex Legends. Now, he would be joining forces with the most accomplished and proven Apex Legends organisation. Expectations were high, and many thought that TSM would sweep Tournament #1 with ease. However, reality turned out to be far different.
TSM ended up finishing sixth place in the NA Finals. To rub salt in the wound, Snip3down's former team, Rogue, claimed first place. The community counted Rogue out once they lost Snip3down, so the fact they went on to win their first-ever tournament without him was a major statement.
Other top organisations were not spared from disappointing finishes. Counter Logic Gaming just took home first place and $36,000 in the Summer Circuit Playoffs. This time, they finished in 16th place. Sentinels and Team Liquid failed to even qualify for the Finals. These are top esports organisations paying their players full-time salaries. Finishing below orgless teams with no salaried players is nothing short of embarrassing.
First tournament with our new pick up
@LouStreams
AND WE GET THE 1ST PLACE AND PLAYOFF SPOT BABY!!! LETS GOOOOOOOOOOOOOO
@Rogue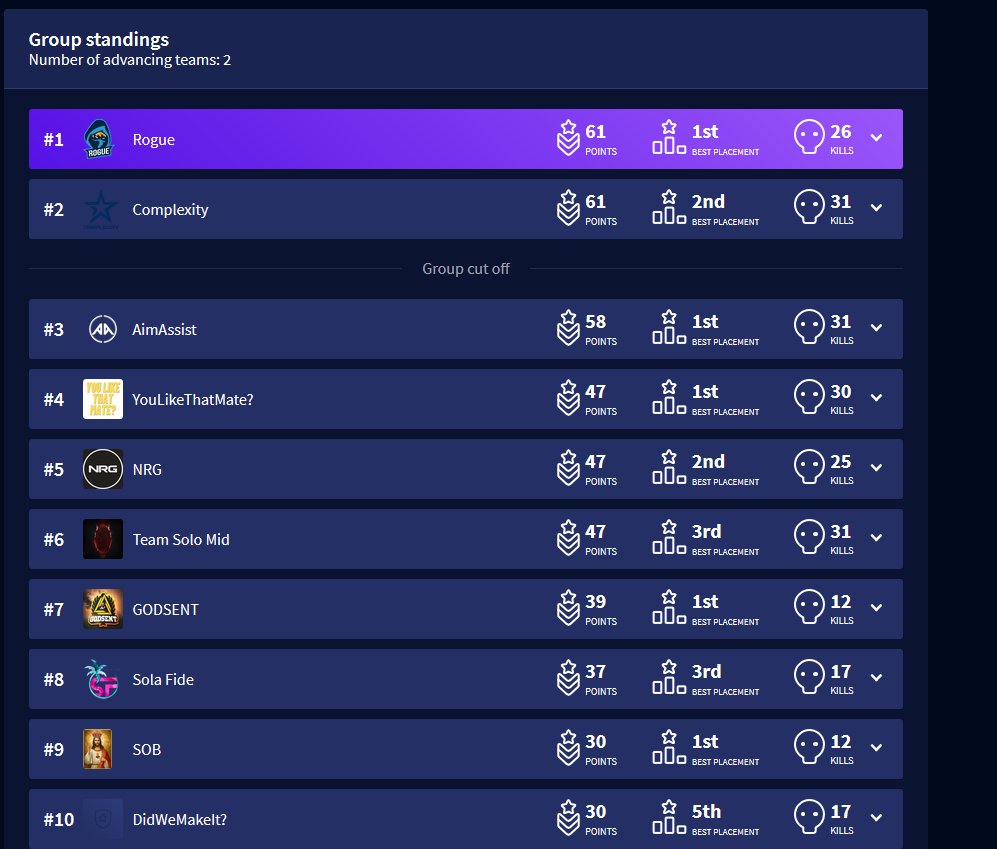 Europe Finals
There's an argument to be made that the Europe Finals' results were even more shocking. Going in, both COOLER and North were favourites to win it all. These two squads came first and second respectively in the Summer Playoffs. Fast forward to the Autumn Circuit Tournament #1, and neither of these teams qualified for the Finals.
With COOLER and North out, it was Wygers who claimed the first place trophy. Wygers is far from a household name. They have two British players that did not start competing in Apex until March of this year. Their inexperience was irrelevant though, as they came first in two out of the six total Finals matches. Third Impact took second place, followed by another largely unknown team, NEW Esports.
¡CAMPEONES ALGS AC OT
#1
! 🥇
Somos pentacampeones de SA 🙂
Hicimos un comeback increíble en la 5ta partida y nos quedamos con el título y los $3200usd. También clasificamos a los playoffs del Superregional contra NA
Gracias a mis compas por confiar en mi
@MsG_Wolfx
@TTrabz_❤️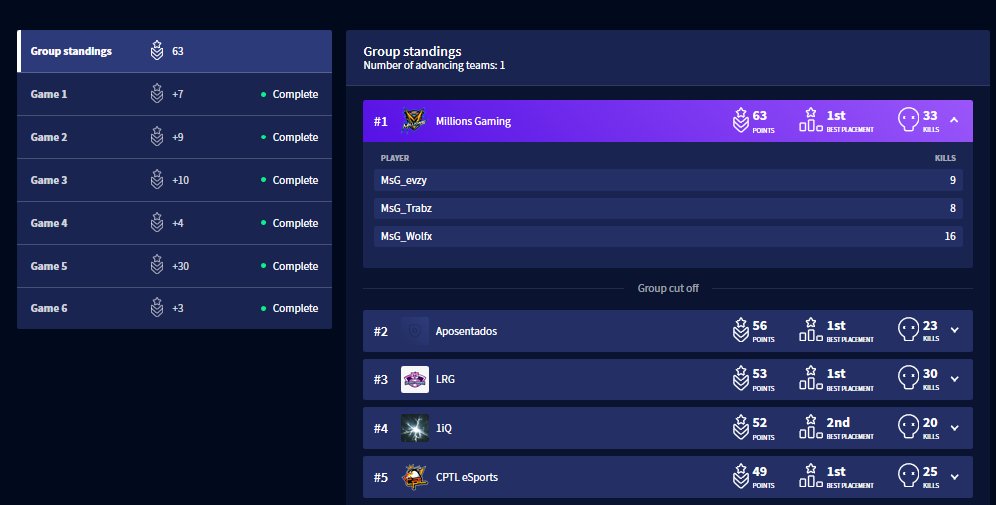 Evzy Claims Victory in South America Finals
One of the things that makes Apex Legends so great is the amount of female talent in the scene. Apex is loaded with women streamers and competitors alike.
Evelyn "evzy" La Torre of Millions Gaming took first place and $3,000 in the South America Finals. Her squad dropped an impressive 18 kill win to cap off the tournament.
Back in July, prominent Apex Legends streamer, Ninjayla, told women in the Apex Legends community, "don't fight to be the 'best female', be the best in general." Well, evzy took this to heart and proved that she is one of the best players in the game, period.
Legend Pick Rates
Let's get into the Legend pick rate statistics and see what we can learn. The first thing that jumps out is the Wraith pick rate. Wraith was picked 100% of the time in both the NA and EU tournaments. A total of 240 teams competed, and they all had a Wraith on their team. No other Legend has a pick rate even close to this.
There are a few reasons for this: No other Legend can open fights like Wraith can. She can phase through and out of traps, perfect for initiating a fight or escaping one. Wraith can reposition the entire squad while avoiding damage altogether — this is invaluable. Wraith's portals can be used to rotate in tight end-game circles, rescue out-of-position or downed teammates, and even abduct an enemy player and portal them back to the team for an easy kill. Wraith is a necessary pick in a competitive environment.
Looking deeper, though, besides Wraith, there is actually quite a bit of variety in team composition. Bloodhound had a combined 25% pick rate across regions. This is the highest pick rate Bloodhound has ever had. Notably, 45% of NA teams ran a Bloodhound compared to just 5% in the EU. Bloodhound is one of those Legends where if one team is running Bloodhound, it feels like everyone else has to as well. The Bloodhound scan and Ultimate are extremely strong in an aggressive squad's hands. EU looks to have taken a more traditional approach. The classic Wraith, Wattson, and Pathfinder comp was the most popular in the EU region.
Wattson, Gibraltar, and Caustic all find their way into different team comps. Their defensive toolkits are ideal for the crowded end-games common in these stacked lobbies. Crypto saw a drastic decrease in pick rate from previous tournaments. Crypto had a 59.3% in the Summer Circuit Playoffs. That rate dipped to 20% during the Autumn Circuit Tournament #1.
Overall, it's nice to see such variety in team comps compared to where we were just a few seasons ago. Legends are much more balanced, and the pros are finding unique ways to take advantage of their various toolkits. Nowadays, players aren't forced into picking just one of three Legends as a slave to the meta.
Kings Canyon vs World's Edge
The presence of both Kings Canyon and World's Edge creates an interesting dynamic. Each map plays significantly different from one another. Kings Canyon is littered with narrow chokepoints, leading to difficult rotations. Due to this, Kings Canyon is as liable as ever to RNG. Teams gifted with a good circle have a massive advantage over teams forced to rotate in. These factors combined lead to the inconsistent results we saw in Tournament #1.
Every team needs to prepare a landing spot for each map. Also, some teams are just flat out better on one map vs the other. This was as evident as ever in TSM's case. TSM was contested at Containment in the very first match of the Finals. They ended up losing the battle and coming dead last in Round 1 as a result. While they moved on to Slums in Round 2, their poor performance in Round 1 was too devastating to recover from. TSM bounced back on World's Edge, but teams need to have consistency on both maps if they hope to win these types of tourneys.
Coaching Factor
A final note of interest is the performance of teams that had elite coaching talent. TSM and Team Liquid have received a ton of hype in part due to their accomplished coaching staffs. However, the results leave much to be desired. As of now, it appears that having top-tier coaching does not guarantee top placements.

The ALGS Autumn Circuit resumes October 17-19 with Tournament #2. Until then, stay tuned here @GGReconEsports for Apex Legends news, guides, features, and more.
Images via Respawn Entertainment | Lenovo Legion | @ApexSinghLabs