Activision has released a statement and firmly denied that over 500,000 player accounts had been publicly leaked.
09:58, 22 Sep 2020
Activision is speaking out about the recent controversy surrounding rumours of account breaches and has reassured players their information is safe on its servers.
With the Call of Duty games arguably being one of the biggest shooter franchises out there - and plenty of hype for the upcoming Call of Duty: Black Ops Cold War - millions of people log in every day with their Activision accounts. You only have to look at the meteoric rise of Call of Duty: Warzone earning 60 million downloads in the first two months to see Activision has the market cornered.
The rumours mill went into overdrive that over 500,000 Activision accounts had been hacked. There were claims that hackers had gained access to log-ins and were then changing details to make sure the original owners couldn't gain access. It's a wild accusation that Activision has firmly denied.
If you think you may be at risk, please check out these helpful step-by-step tips to safeguard your account .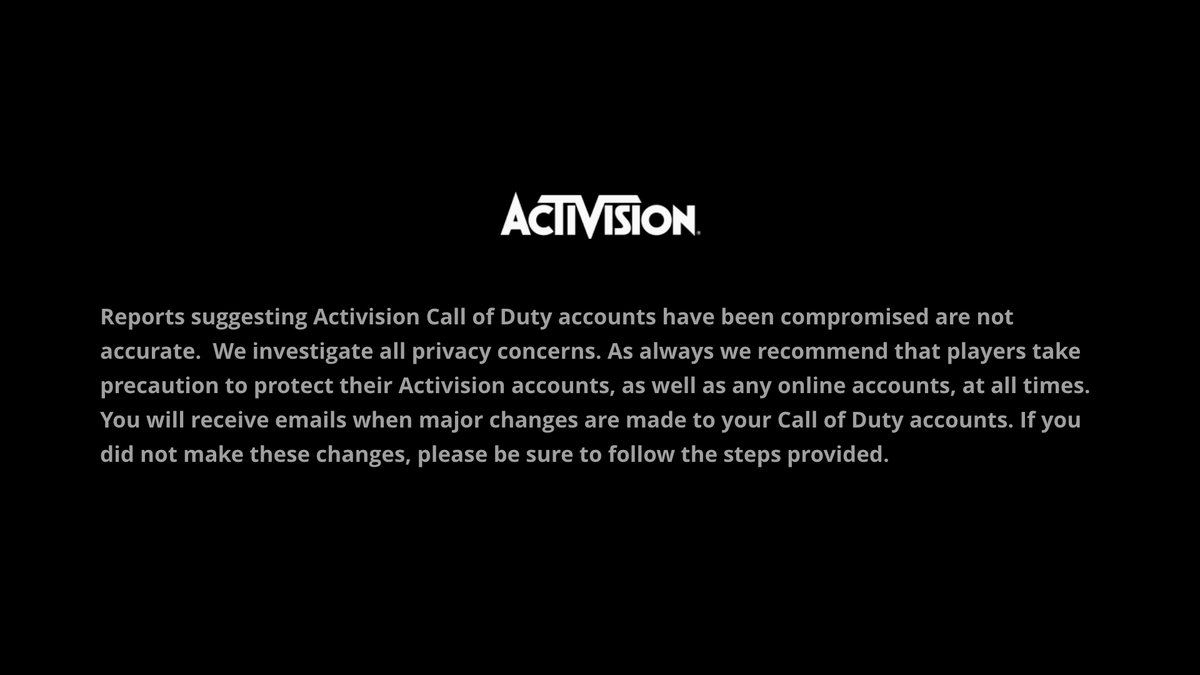 Posting on Twitter on September 21, the official Activision account explained, "Reports suggesting Activision Call of Duty accounts have been compromised are not accurate. As always we recommend that players take precaution to protect their Activision accounts, as well as any online accounts, at all times." The tweet reiterated that you would only receive Activision emails to announce major account changes, which will always be flagged as official.
The news was first dropped by "oRemyy", before quickly being backed up by content creators including "Okami", "Prototype Warehouse", and "TheGamingRevolution". Where the story originated (and why) is unclear, but according to Activision, it's a case of don't believe everything you read.
Despite Activision debunking the idea of a mass hack, several sources have highlighted that the fact the publisher doesn't have multi-factor authentication enabled. This is undoubtedly the best way to keep your data secure, meaning there have been calls for Activision to introduce something similar.
The main advice is to make sure your password isn't the same across all your accounts and to unlink Battlenet, PSN, Xbox, and other social media accounts from your Activision one. If you're worried about your Activision account safety, the company has released a step-by-step guide on how to secure your details. It can be found here.
Stay up to date with all the latest esports and gaming news by checking out our social channels here: Twitter | Facebook
Images via Activision