Another title from the legendary skateboarding game series could be launching this year
16:00, 10 Mar 2020
It's been 5 years since a Tony Hawk's Pro Skater game has graced our monitors - and over 20 years since it's initial release on PlayStation - but it appears a brand new Tony Hawk's Pro Skater could be coming sooner than we think.
NDA's be damned, because Australian punk rock band The Death Set posted a spoiler on their Facebook page;
New Tony Hawk Pro Skater game inbound!
Keeping hopes low after the long, long row of abysmal games since Tony Hawk's RIDE.
But this also seems like a major NDA breach.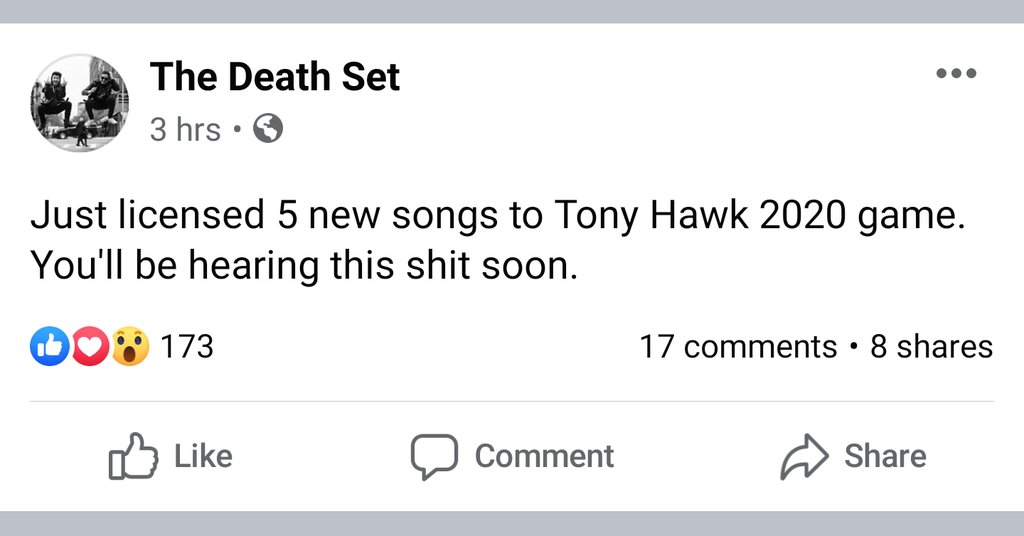 Tony Hawk games have been a haven for pop-punk and rock music since the initial release in 1999, boasting bands on their soundtrack such as Rage Against The Machine, Red Hot Chili Peppers, and many more.The Death Set appear to be joining the ranks of this elite group.
Although the licensing deal Tony Hawk with Activision expired in 2015, after grossing an impressive estimated $1.4 billion in sales worldwide, it seems like a new deal could have transpired.
The classic game series, based on the antics and skills of the legendary skateboarder, may not be getting a brand new title, however, as leaks from 2019, and a Twitter user named Sabi, suggests this new release could be a remake of Pro Skater 1 or 2;
Explanation of what I shared in my server:
An Activision contact told me a week or so ago about how Tony Hawk Pro Skater 1 and 2 had demos/prototypes remade. They went around internally. I didn't share before as I wasnt sure if they were being remade as full games, or just a test
Adding more fuel to the fire were comments by professional skateboarder Lizzie Armanto. Speaking on The Nine Club Podcast in October 2019, she let slip when asked about her appearance in Pro Skater 5 that; "he's coming out with another one, and I'll be in that too."
The long-anticipated return of Tony Hawk's Pro Skater could be just around the corner. We'll update you with any and all news on future leaks or confirmations, right here, at GGRecon.
Image via Activision